Can I Really Earn Money Online?
Making money online is a dream for many people. And while there are many ways to do it, earning affiliate income is one of the most popular and accessible methods. So, how does affiliate income work? And how can you make money with it? Keep reading to find out!
Affiliate income is when you earn a commission for promoting someone else's product or service. This can happen when you tell a friend about a great place to eat, and the restaurant rewards you with a free dessert. OR You can earn an affiliate income online through a blog or social media posts. For affiliate income online, typically, you'll receive a unique link from the merchant that you can share on your blog or social media. You'll earn a pre-set commission when someone clicks on your affiliate link and makes a purchase!
It's a great way to monetize your blog or website traffic and can be a lucrative source of passive income while working from home, from your RV, or wherever you may travel. Plus, there are thousands of affiliate programs to choose from, so you're sure to find one that fits your niche and audience well.
How To Get Started with Affiliate Income Online
If you're interested in earning a steady income with affiliate income, there are a few things you need to do first:
1. Choose an affiliate program
There are thousands of affiliate opportunities because growth-oriented companies seek customers. These companies understand that your audience could become their customers- through your existing relationships. Take some time to research affiliate programs and find one that's a good fit for your blog or website. Consider the products or services offered, the commission rate, and whether the program has any special requirements (like having a certain number of followers or subscribers).
Affiliate Networks:
Affiliate network companies serve as a middleman between companies seeing commissions (you) and companies selling products. This is a way to apply to one affiliate network and find many different affiliate products you can promote.
Consider these: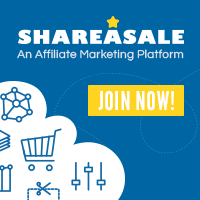 Affiliate networks typically request an online application with questions about your website, your social media presence, and how you plan to market their programs, products, or services.
Affiliate networks are great because:
You only apply for the online affiliate program once and receive access to many different affiliate products.
There is a lot of flexibility in choosing products for your niche and for when you expand into additional niches.
It is easier to track your payouts from an affiliate network if you use many of their affiliate products. They provide the reporting for you!
Affiliate networks make the individual companies within their program follow certain rules, such as making sure that the companies pay you the earned commissions and transparency on the transactions that you refer.
Direct affiliate programs
Some companies list their affiliate programs directly on their website and do not work with an affiliate network. These companies run their own affiliate program, generally as part of their overall marketing strategy.
If there is a specific company you are interested in promoting, look at the company's website and search for the word "affiliate" or "refer" at the bottom of their homepage.
Direct affiliate programs are ideal for promoting products that you know and love. You can approach local businesses and ask for a referral fee or a small commission when you send them new customers. It's that easy!
2. Sign up for the affiliate income program
Once you've selected an affiliate program, either a direct program or through a network, sign up and create your account. You'll usually just need to provide your name and contact information.
3. Generate your unique affiliate link
Once approved for the program, log into your account and find your unique affiliate link. You'll share this link on your blog or social media, and your readers can then click through to the merchant's site and make a purchase.
4. Start promoting the affiliate!
Now that everything is set up, it's time to start promoting the merchant's products or services on your blog or website. You can write blog posts and reviews, create videos about the products/services, share social media posts, or even run ads featuring the merchant's products/services. Be sure to explain the product or service thoroughly, educate your customer and be honest in how you encourage the reader to buy the products that you are promoting.
5. Keep Learning
The affiliate network companies offer excellent training for affiliates. Some of the direct programs provide guides to help you get started. However, for a quick start, there are courses available. Pick up a free 36-page ebook from Making Sense of Affiliate Marketing to learn more about how to earn money with affiliate marketing while providing huge value to your readers. Start with the free ebook using this link.
Summary
Making money with affiliate income is a great way to monetize your blog traffic and start earning some passive income. And it's relatively easy to start – choose an affiliate program, sign up, generate your unique link, and start promoting! So, what are you waiting for? Start earning money today with affiliate income!
Related Posts: